Falconry School
Forest Barn Falconry School and 5* self-catering accommodation exists to promote a greater understanding of Birds of Prey. Their care, training, management and conservation with opportunities for visitors and course delegates to enjoy and experience an exclusive environment.  Our resident falconer, Mark Parker, has an enviable reputation among those who know falconry. 
Our School runs courses and experiences for those who share our fascination and passion for owls, falcons, gos and harris hawks, as well as other raptors.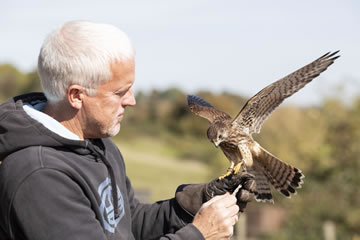 Resident Falconer
Our man at the Forest Barn Falconry School is Mark Parker, former Head Falconer at The International Birds of Prey Centre and for the past two years Oxford University's Consulting Falconer with the Oxford Flight Group and commissioned by Professor Graham Taylor.  
Mark has kept and flown raptors since the tender age of eleven.  All our staff are also competent and experienced falconers/animal handlers and hold relevant qualifications.
Vouchers - The Ideal Gift!
If you are looking for that unusual present, why not consider a voucher for one of our handling, half day flying experience or courses?
Decide what event you are interested in and then click here to purchase your falconry voucher.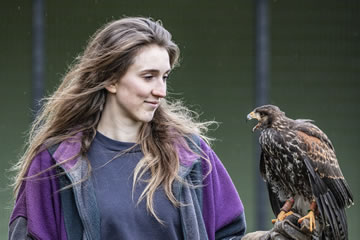 Activity Days and Courses
Situated in the of the picturesque Forest of Dean (Gloucestershire) countryside, we run a wide range of experiences and courses, covering all aspects of raptors (owls and birds of prey), falconry handling and animal photography.
We are happy to quote for individual needs and can build a course to cater for groups of friends or work colleagues. Please contact us for further information.
Gift Vouchers are available for all courses (valid 6 months). These make ideal presents. Contact us to book your course or order your voucher.   

Corporate Hospitality & Entertainment
A day spent flying our spectacular birds and learning about the colourful history of falconry and birds of prey is a never-to-be-forgotten experience. We can make this a challenging team building day, or a relaxing chill event, or can incorporate other activities to suit your requirements. The choice is yours to make, this is why so many companies use us for corporate days with a difference.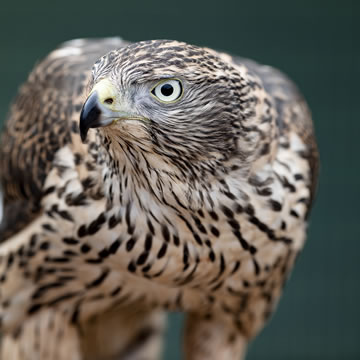 Six Day Course - Sun to Friday
Sun 24th November 2019 for 6 days (5 nights*)
Intensive 6 Day Falconry and Bird of Prey Management Course - with accommodation.
Designed for those who are really serious about owning and flying a raptor, this course covers everything you will need to know. 
Our Falconer Mark Parker is the trainer for the whole of this course.  It is an intensive 6 days and the course structure involves 'hands on tuition', classroom theory work, practical demonstrations on many subjects which includes:
Training Procedure
Handling Techniques
Manning
Creance work/training
Flying free
Fitness training
Weight control
WeighingFood types and suppliers
Hoods and hooding
Birds used in modern day Falconry
Selection of birds
Avieary design
Equipment used
Making Equipment
Travelling boxes
Casting
Coping
Imping
Lure swinging and use of Lures
First Aid and Vets
Legislation
Clubs 
Prices: £156.67 per day (£940.00 for 6 days)
Full Board at £95 pppn
Note:  Mark is a Raptor Awards Assessor and should you wish to attend the course with a view to obtaining a recognised qualification, this additional assessment and coaching can be included in your course for an additional £295.00
* Accommodation with full board is optional
Falconry Taster Course - One Day
This course is for those who are considering the acquisition of a bird of prey, but want to find out more about the subject before making the commitment to the sport. The principles taught are applicable to all raptors (birds of prey and owls). All participants receive a handbook and a certificate.
£175/£90* per person per day. (*Under 16s)
Specialist Days
Birthday Parties And Celebrations
For your special day, why not visit us at Forest Barn Falconry School.  We can supply entertainment and a never-to-be-forgotten experience to mark your special day.  Each party is different, and so is our service. As well as the birds, you can choose to have us supply food and drink, other entertainment and even gifts for your guests, and all in a very intimate, friendly and exclusive atmosphere.
Please contact us for details and costs of this unique party solution.
PLEASE NOTE
Minimum age for ALL events is 8 years, and children under 16 must be accompanied by a fee-paying adult
*Fee reduction is for children accompanied by a full fee paying adult; one child per adult only. Minimum age for ALL events (except parties) is 8 years, and children under 16 must be accompanied by a fee-paying adult.
We are happy to exchange vouchers for different "courses" of the same value, or to allow "upgrading" from ½ day to full day on payment of the difference in price.
Due to the nature of our service, non-fee paying guests are not allowed.
Full day courses normally start at 1100, and finish at 1600; morning ½ day courses start at 1100 and finish at 1330, and afternoon ½ day course start at 1400 and finish at 1630. All prices quoted are correct at the time of publication, but we reserve the right to alter terms, conditions and prices without notice.
Authorised by FODDC Licensing Act 1981 Certificate No: F/19/00313/AZOO
Hear From Our Previous Guests...
Excellent quality accommodation, with everything you could possibly want to ensure a restful stay, located conveniently for travelling to other destinations, no shortage of pubs / restaurants. Recommend highly.
Peter & Melissa, York
Lovely property a real home from home, clean, comfortable, glamorous well thought out décor and touches to make the stay as comfortable and enjoyable as possible.
Sarah, Martin and family, Cambridge
Barn was v.comfortable and well equipped and warm. Beds v.good, powerful shower and toiletry items plentiful. Very peaceful and ideal for relaxing. Strongly recommend.
Steve and Davina, Peterborough